Capital Foodservice Equipment
"The Equipment Connection"
Our Mission: Here at Capital Equipment we strive to do our best to serve you with your Foodservice Equipment needs. From Freezers to Pizza Ovens to Mixers, we have it all. New, Used, You name it, we have it!
Location: Our Buisness is Located at 545 Riverside Drive, Augusta Maine 04330
Getting here:
From Waterville: Get on 201 South and stay on for 10 miles. Watch on the left for a big red building.
From Augusta: Get on 201 North and go past O'Conner GMC about 3 miles. Watch on the right for a sign that says Capital Foodservice Equipment and a large red building.
Contact us at:
Phone:626-2727
Fax:626-8145
Toll Free: 1-877-549-4354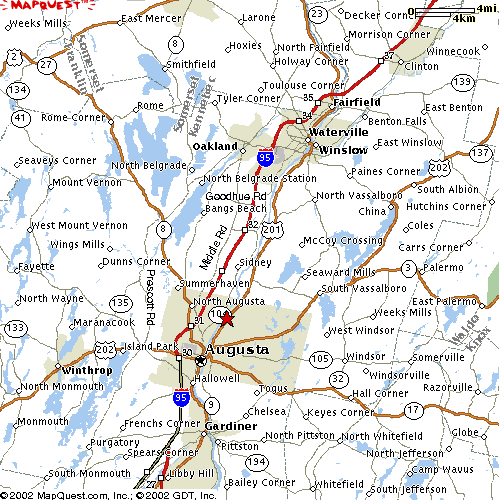 1: Start out going Northeast on ME-26/CUMBERLAND AVE towards FRANKLIN ST/US-1A S.
0.04 miles
2: Turn LEFT onto FRANKLIN ST/US-1A N.
0.38 miles
3: Take the I-295 N ramp towards FALMOUTH.
0.23 miles
4: Merge onto US-1A N.
0.86 miles
5: US-1A N becomes US-1 N.
0.17 miles
6: Stay straight to go onto I-295 N.
3.87 miles
7: I-295 N becomes I-95 N (Portions toll).
47.77 miles
8: Take the US-202/ME-11/ME-17/ME-100 exit- exit number 30- towards ME-3/AUGUSTA/WINTHROP.
0.30 miles
9: Keep RIGHT at the fork in the ramp.
0.09 miles
10:Merge onto US-202 E.
1.39 miles
11: Enter next roundabout and take 2nd exit onto US-202 E/US-201 N/ME-100 N.
0.76 miles
12: Enter next roundabout and take 2nd exit onto US-202/ME-100/ME-9.
0.63 miles
13: Stay straight to go onto ME-100
2.37 miles
Total Distance:58.87 miles
Total Estimated Time:1 hour, 10 minutes



Information used below from MapQuest.com